 The perfect venue for a special day
A unique rustic wedding and event venue in stunning upstate New York
A stunning rural venue located in Upstate New York, nestled in over 100 acres of meadows, woodland, streams and a large mill pond. Andelyn Farm is perfect for intimate, rustic weddings, events and retreats. Exclusive use of the grounds is available. Our facilities are centered on a restored 19th Century Barn and we are optimized for approximately 100 attendees but can accomodate up to 150 if required.
Our Wedding packages start at $2,000 for up to 25 guests.
Our Event packages start at $500/hour (minimum 4 hours).
Use the Chat Button below or call us on (518)-240-4104 to discuss your particular requirements
Your big day, have it your way
Andelyn Farm offers panoramic views, surrounded by nature and stunning scenery to capture your special and beautiful moment with your family and friends. We have a selection of ceremony locations to choose from to make your special day just the way you want it.
Our aim is to make sure your event is filled with lasting memories and we will work with you to accomodate whatever it takes to achieve this; be it a special request, an unusual venue choice or wedding theme, or simply the need to work within a limited budget. Our facilities and Staff are very flexible and, unlike other venues, we do not require that you simply purchase one of our pre-set event packages.
Your big day will only happen once and, as far as it possible, should be exactly as you would like it to be. We believe that great things can be achieved when we work together!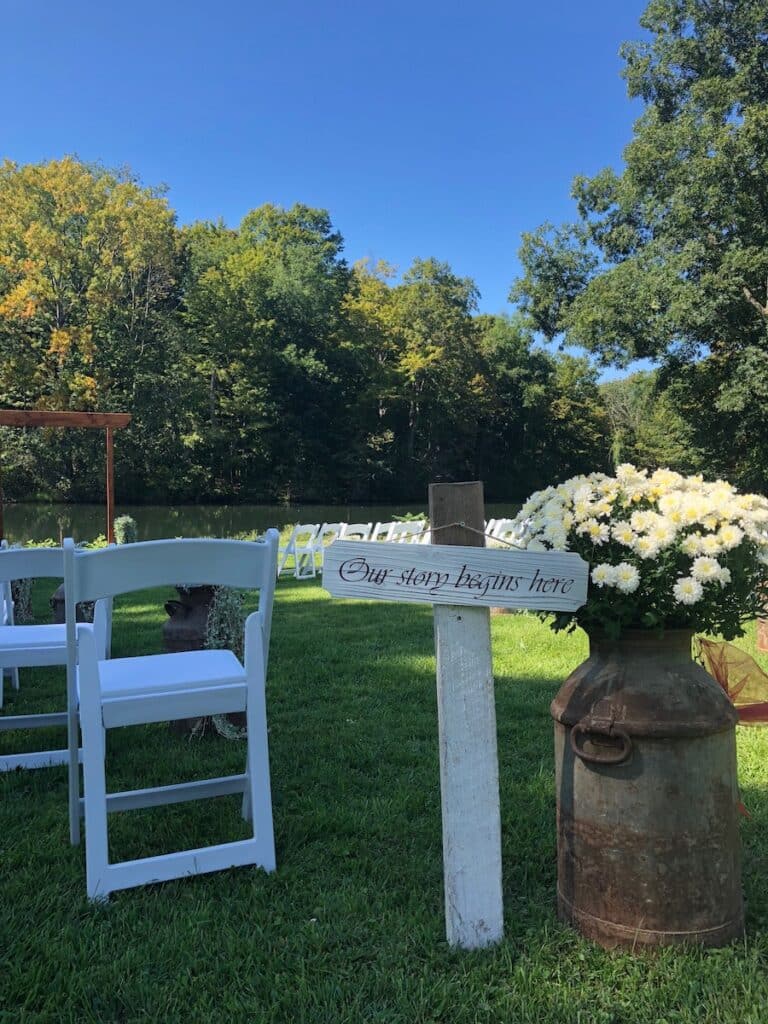 Private and exclusive to you
Surrounded by charming scenery, we offer packages and give your family and friends exclusive access to the whole site for up to 3 days. Giving you the freedom to fully enjoy the preparation that goes into your big day. Enjoy boating on and fishing in our mill pond, plenty of space outside for games and a campfire with S'mores.
There is accommodation for up to 6 guests in our restored 19th century mill workers cottage, up to 30 guests in traditional yurts plus space for tents and marquees. We have a special honeymoon themed yurt for the newlyweds and large yurt for the bridal party to prepare within easy walk to the wedding barn. Our cottage can also serve as preparation room for the bridal party.
Andelyn Farm has a private driveway with a separate large parking area for guests. There is ample hotel and/or B&B accommodation within a 30 minute drive for guests who need to stay overnight in the area.
Let's start planning your special day
We know how important planning your special is to you!  Contact us for more information, pricing and special requests.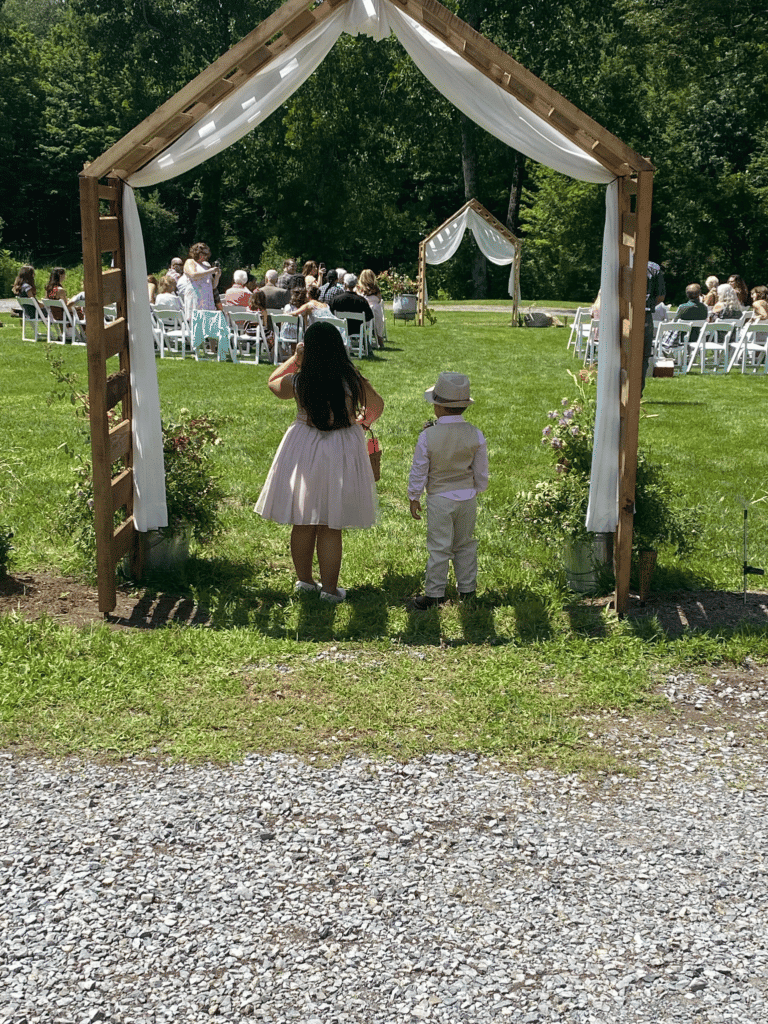 Flexible and tailored to your needs
We offer selection of  packages ranging from the unlimited access to our entire site and facilities for three days/two nights, to simple, hourly rental of a single facility, such as the use of our barn or a selection, such as the barn plus a yurt or our cottage for the bridal party preparation, or simply the use of our grounds as the backdrop for your ceremony.
In all cases you will have the help and support of our experienced Staff to guide you through the planning of your event as well as being on-hand during the entire time you are with us – we can even provide a Officiant to perform the wedding vows.
Unlike other venues, we never restrict you to a "standard" package and will always work with you to help provide the wedding that you have always dreamed of within your budget.
FULL EVENT
$6,000
Our prestige, all-inclusive package provides for a glorious three-day event starting at 3pm on the first day ending around noon on the last day. This event package includes two nights. Your event can be held on any consecutive dates you choose mid-week and weekends.
12 hours use of our beautiful 19th century Wedding Barn with covered deck. You choose the schedule that fits you best. For example:

First Day: 4hrs Decoration and Rehearsal Dinner
Second Day: 6hrs Reception
Last Day: 2hrs Farewell Breakfast and Cleanup

Seating for up to 80 guests in the barn and up to 30 additional guests on the covered deck
For the rehearsal dinner and wedding reception Andelyn Farm provides tables with white tablecloths or table runners and chairs, cake table, sweetheart table and gift table together with lighting and decorations for the barn, tables, and grounds. Our staff take care of the set up and take down of these items
You are free to use our decorations, add your decorations to ours, or use only your décor
Wedding Ceremony Staging with wedding arch
12 hours use of our catering Preparation Room, water and power
Use of the Wedding Barn Deck outside of the Barn hours
Exclusive access to our outside grounds and walking paths and other recreational facilities, including:

Fire Pit
Mill Pond
Hiking Trails

The following optional extras to this package are available at an addition charge:

Officiant for the Ceremony
Golf-cart transport from our event parking field to the venue
Sound System facilities for your Ceremony and Reception Speeches so that everyone can hear your words clearly.
Large Video Screen.
Book any of our accommodations at a 10% discount on our normal rates, subject to availability.
FULL EVENT-plus
$8,500
This package provides:
Everything in our Full Event Package
Three days and two nights use of our newly restored Hummingbird Cottage which allows the bride and her party a private space to get ready for the big event, serves as a honeymoon cottage for the bridal couple or space for up to 6 guests to stay for two nights. The cottage is fully equipped with a full kitchen, a bathroom and shower.
Two nights exclusive use of the main campground including all four of our beautiful luxury glamping Yurts and up to 10 tent camping sites, for your wedding party to stay overnight.

There is a bathhouse for guest use with Ladies room, Men's room, ADA restroom with shower and three single shower rooms.
All our guest facilities have linens, blankets, coffee pot, electric kettle, microwave, refrigerator, toaster, and gift goodies. electricity points, including USB charging ports, and are decorated with special attention. We DO NOT provide bath towels.
All yurts and the cottage are provided with a fire pit, picnic tables, lawn chairs and charcoal BBQ grills. We supply firewood and the accessories to use with the fire pit and grill.

Check-in for all accommodations is 3:00pm on the first day. Check-out for all accommodations is 11:00am on the last day
The following optional extras to this package are available at an addition charge:

Propane grills to cook for many people if you are wishing to serve a breakfast or other meal for your guests.
Additional fuel for the Yurt BBQ grills and fire pits if required.
À la Carte
Starting at $3,000
This package provides a one-day (hours of your choice) wedding:
Exclusive use our Wedding Barn for $500/hr (minimum of 6 hours) any time between 8:00am and Midnight. Includes tables, chairs, table cloths and some decorations for up to 80 guests.
Rental includes use of the catering Preparation Room, water and power
The following optional extras to this package are available at an addition charge:

Ceremony Staging with wedding arch
Additional seating on the covered deck for up to 110 guests in total
Officiant for the Ceremony
Golf-cart transport from our event parking field to the venue
Sound System
Large Video Screen
Use of ground facilities such as the large fire pit
Book any of our accommodations at a 10% discount on our normal rates, subject to availability.
Elopement Package
$2,000-$2,500
This package provides for an intimate wedding and gives you lots of choices to plan your day:
Write your own vows or select some from our collection
Up to 25 guests
This package includes the use of our Hummingbird Cottage for 1 night
Gather with your guests or be alone. The cottage sleeps up to 6.
Enjoy the firepit or just sit quietly on the back porch.
Have a picnic or cookout done by you or your caterer.
Host a small gathering on the back porch overlooking our mill pond
The following optional extras to our package are available at an addition charge:

Public Address facilities for your Wedding Ceremony and Reception Speeches so that everyone can hear your words clearly.
Tables with white tablecloths and chairs together with some lights and decoration.
Propane grills to cook for many people if you are wishing to self-cater for your guests.
Build You Own Package
If our standard packages do not quite fit your vision for the perfect Wedding or if you have any special requirements, then please call us to discuss how we may be able to help.
For example, you may wish a particular theme for your wedding or wish to include additional facilities, such as live entertainment or children's amusements.
All of us at Andelyn Farm are aware that we are the conduit to creating an experience that will become a forever memory. As such, we will always work with you to help ensure that your dreams are realized rather than impose restrictions on your vision.
All that you need, we got you!
Our fully refurbished historic red bank barn with space for 80 guests and huge barn doors leading to an outdoor covered deck with space for 30 seated guests but which also makes the perfect entrance lobby space when seating in the barn itself as well as an outside space for serving drinks, dancing or simply relaxing during the post-wedding celebrations
The genuine 19th century barn offers panoramic views from both inside and outside. The magnificent hand-hewn wood beams of the barn provide a rustic and charming setting for celebrations whether elegant or casual, grand or intimate, or something in between.
In addition to the barn, we offer flexible layouts in the surrounding grounds to create intimate cozy spaces for smaller parties or spaciously accommodate Marquees for up to 150 guests.
The deck attached to our workers cottage overlooking our mill pond is the perfect location for a small, intimate wedding ceremony and reception for up to 30 guests.
There is a dedicated barn for Caterers to use as a preparation area with ample power and water available together with refrigeration if required.
We provide free high speed WiFi internet covering the whole wedding site. Lighting and Sound systems can be provided to your requirement or we will willingly assist in setting up your own equipment.
We have 4 glamping yurts that sleep up to 30 people.
Set in an open field beside our four acre lake and streams and close to the Hay Barn, our Luxury Camping Yurts feature views of the surrounding forests and hills. Best of all, the open field site and our rural location provide the perfect conditions for viewing the night sky at its very best. Our Yurts vary in size from 315ft2 to 700ft2 and can accommodate parties between 6 and 10. Each Yurt is fully equipped with comfortable Queen beds together with sets of bunk beds and/or a double sofa bed, depending upon the size. All yurts are provided with a refrigerator, kettle and coffee maker, microwave and free WiFi Internet access.
Our charming restored 19th century mill workers cottage is fully equipped and can accomodate up to six guests in three bedrooms. It is perfect as the base for the bridal party, for the bride and groom alone or for general accommodation. The back deck overlooking our mill pond can be used to host a party of up to 25 guests.
We have ample space for camping in our campground and woods to accommodate additional wedding guests under their own canvas.
Let's start planning your special day
We know how important planning your special is to you!  Contact us for more information, pricing and special requests.
Everything you need to know
BYO permitted – licensed server is required
Civil Union, Commitment Ceremony, Elopement, Interfaith Ceremony, Non-Religious Ceremony, Religious Ceremony, Second Wedding , Vow Renewal Ceremony or Gay Marriage
Amplified music OK indoor and outdoors
Yes, they must be up to date on their vaccinations and please bring proof. The dogs when out of the yurt or tent must be leashed in the campground area. We ask that they be well behaved and with their guardians at all times.
We are happy to say that we are. Two of our yurts and  have ramps and railings to assist and we have an ADA bathroom.
Hot and cold running water and dishwashing area for caterers
On-site restrooms and showers
A gorgeous event centre surrounded by forest and farm land. I attended a wedding as a guest, and though I did not stay on site I did see inside two yurts which looked modern and comfortable. The toilets, laundry and shower were central and clean. A beautiful spot for a wedding.
Beautiful venue for wedding weekend and more. Yurts are spacious and clean. Grounds were neat and tidy as were the shower rooms and bathrooms. The owner was very friendly and attentive to our needs.
This was such an amazing venue for the bride's wedding. The camping in the yurts was simply amazing. Everyone was super sweet and nice. We all felt at home. I'll be taking a few more trips up to this place. Everyone must glamp here at least once! Sweetest folks I have ever met this far north.