 Relax. Explore. Celebrate.
Andelyn Farm is a unique rural and rustic campground, wedding and event venue located in Upstate New York. Spread over 100-acres, our farm features a restored rustic Farm Worker's Cabin, luxury glamping Yurts and a choice of campground pitches in our woodlands, wildflower meadows or alongside streams and ponds.
Our historic Wedding Barn has been lovingly restored to host weddings and events, making it the perfect venue for your special day.
Our Summer Season starts April 1st
We are now accepting bookings for our 2023 Summer Season. All of our accommodations are available from this date as well as our Wedding Barn and Event facilities.
Our schedule is filling fast so we encourage you to book early in order to secure your dates. We will provide a full refund of your deposit up to 30 days before your check-in date, should you wish to change or cancel your booking3
We look forward to welcoming you. Please contact us if you would like more information or if you have any questions.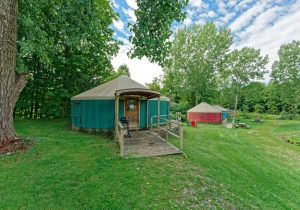 Set in an idyllic location, our Yurts are uniquely furnished and fully equipped. Bring your own tent or rent one of ours and feel at home whilst being in the great outdoors.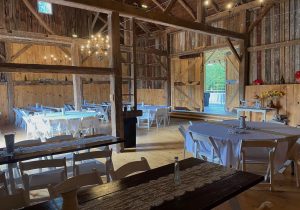 Andelyn Farm and our beautiful Wedding Barn is surrounded by nature with panoramic views, making it the perfect location for intimate weddings, events and retreats.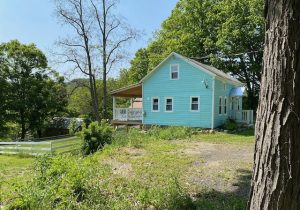 Our restored 19th century Farm Worker's Cottage combines rustic charm with modern amenities for the perfect rural get-away location


The perfect venue for a special day
An experience of a lifetime
Picturesque Upstate New York
Located in picturesque Upstate New York, Andelyn Farm seamlessly combines the height of luxury glamping and camping with the inherent peacefulness of nature. Sprawling over 100 acres, the property boasts upscale Yurts, peaceful campsite and our Wedding and Event Center. Attention to detail can be seen in every aspect at Andelyn Farm from the rustic Adirondack chairs to the carefully curated décor.
Nestled in rural up-state New York at the foothills of the Green and Adirondack Mountains, and just 5 miles from the Vermont state boarder, Andelyn Farm is the perfect base location to explore the many local walking, hiking, ATV and biking trails. Take a scenic drive through the mountains to Lake George and Adirondack State Park, just 28 miles away.
In the winter Andelyn Farm participates in the extensive local network of snowmobile trails and is in easy reach of the Willard Mountain, Gore Mountain, West Mountain, Killington and Green Mountain ski areas.
For those that just want a peaceful get-away, you can explore our natural woodlands, walk our wildflower meadows, wade in our crystal clear mountain streams or fish in our four acre Mill Pond. At night you can enjoy the simple pleasure of sitting round a campfire under spectacular stars.
Please feel free to contact us to discuss your holiday or to plan your special day or event. 
Locally we are in East Hartford, Granville and our nearest International airport is Albany a 1 hour drive away
Andelyn Farm
5499 County Rte 30
Granville, NY 12832
United States